This is my maiden post. So I decided to start this blog with an infamous article that has annoyed and outraged Filipinos that are working and/or living outside of the Philippines, in other words, OFWs, Global Filipinos or OFIs (recently coined by Arroyo, it means Overseas Filipino Investors).

An entertaining, witty and frankly written article was made by a certain Malu Fernandez for People Asia magazine. But I think it was too frank and really shocked most people, including me. In that 2007 June article, she mentioned that she took a two-way economy flight to Greece with stopover at Dubai and how she wanted to slash her wrist when she discovered that she had to endure the long haul flights with Axe smelling OFWs.

"However I forgot that the hub was in Dubai and the majority of OFWs were stationed there. The duty-free shop was overrun by Filipino workers selling cell phones and perfumes. Meanwhile, I wanted to slash my wrist at the thought of being trapped in a plane with all of them."

On her flight back to the Philippines:

"... I had to bravely take the economy flight once more. This time I had already resigned myself to being trapped like a sardine in a sardine can with all these OFWs smelling of AXE and Charlie cologne...."

Click the images to read her full article: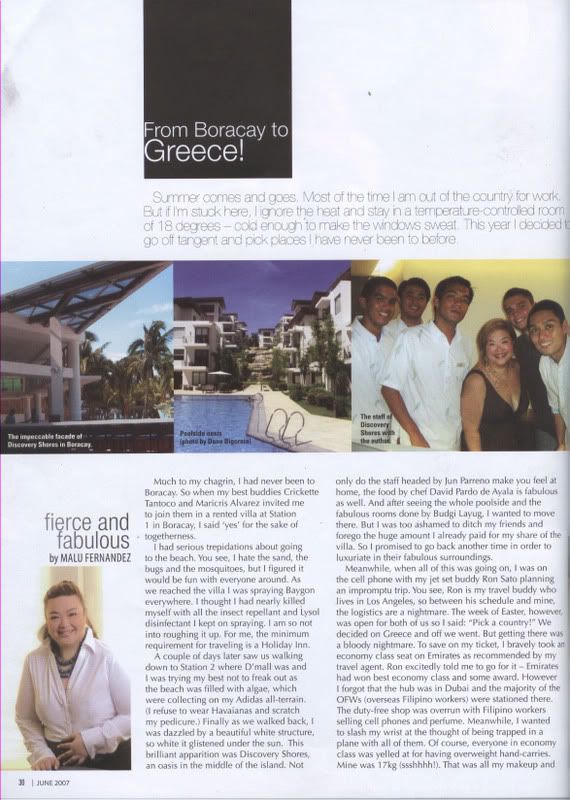 Of course, her article has created hate mails and petitions to fire her from the magazine.

Some of the comments around the web:
"Fire Malu Fernandez, Boycott Manila Standard, and People Asia Magazine"
"Malu Fernandez: The hate continues…"
"The Bigotry of Malu Fernandez and In Defense of the Filipino Migrant Workers"
"Ang OFW at Malu Fernandez isang Elitistang manunulat!"

Are there more Filipinos who avoid OFWs like the plague? How about you? Do you like going to Lucky Plaza on Sundays? Do you think that OFWs are a unique breed of Filipinos?